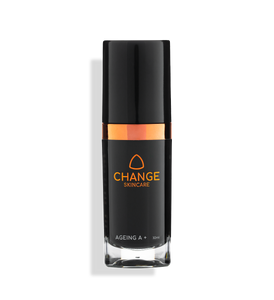 Ageing A+ is an ultra-potent Vitamin A that helps remodel facial texture, working long term to help restore a healthy skin function to a youthful state. With a blend of an anti-aging powerful surge of ingredients, changes may be noticed with clarity, volume and colour.
Regular Vitamin A users as a perfect step up from 0.5%.

Mature skin.

Sun-damaged skin.

Ruddy skin complexions.

Pigmentation.

Acne.

Rosacea.
Apply 1-2 pumps on clean skin.
Use in the morning & at night.
Can be blended with other serums.
Retinaldehyde 1%- (Vitamin A) Outstanding skin compliancy, non-irritating.

Niacinamide B3- (Vitamin B) Regulates moisture levels.

Red Algae Extract- Assists with safeguarding photo-aging.

Hyaluronic Acid- Inhibits dehydration superior skin plumper.

Helioguard 365- Safeguards against photo-aging.

Symwhite- A powerful skin lightener.

CoQ10- Helps prevent premature aging.

Beta Glucan- A potent ability to help with wound healing.

L-Carnitine- Cell turnover.

Aloe Vera - Skin soother.
PLEASE NOTE THIS PRODUCT IS NOT RECOMMENDED FOR THOSE WITH NUT ALLERGIES. TRACES OF NUTS ARE FOUND IN A KEY INGREDIENT USED IN THE PRODUCTION OF THIS PRODUCT.