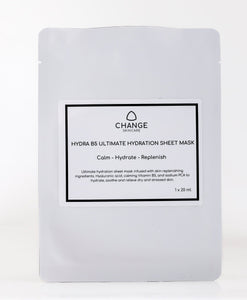 A Hydrating Sheet mask delivers the ultimate radiance and hydration you are looking for.
A skin quenching sheet mask delivers intense long lasting hydration, for plump, dewy and radiant skin.
• All skin types
• Dry, dehydrated skin
• Dull, lacklustre skin
• Post-treatment
Apply to clean skin, leave for 10 - 30 mins, remove the mask and lightly massage in the residual product. Remove excess with a soft cloth.
Follow with suitable serums and moisturiser.
• Hyaluronic acid Mid/High M weight - Natural moisturising factor improves barrier function.
• Hyaluronic acid Low M Weight - Inhibits dehydration
• Vitamin B5 - Adds moisture, which is calming and soothing.