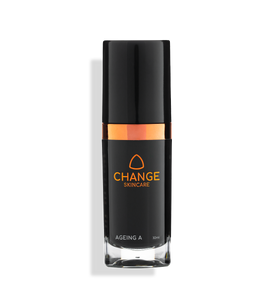 Ageing A is a gentle version of Vitamin A+B+C, a group of potent Anti-inflammatories: instigated to work together delivering powerful anti-ageing ingredients, helping reverse accelerated signs of aging.
First-time Vitamin A users.

Pigmentation.

Sun-damaged.

Poor texture.

Dull, lifeless skin colour.

Acne & Rosacea.
Apply 1-2 pumps on clean skin. Use in the morning & at night.
Can be mixed with other serums.
Retinaldehyde 0.5: (Vitamin A) Skin reconditioner without side effects.

Niacinamide-B3: (Vitamin B) Calming, regulates moisture levels, helps repair barrier function.

Hyaluronic Acid: Inhibits dehydration, superior skin plumper.

Helioguard 365: Safeguards against photo-aging.
PLEASE NOTE THIS PRODUCT IS NOT RECOMMENDED FOR THOSE WITH NUT ALLERGIES. TRACES OF NUTS ARE FOUND IN A KEY INGREDIENT USED IN THE PRODUCTION OF THIS PRODUCT.