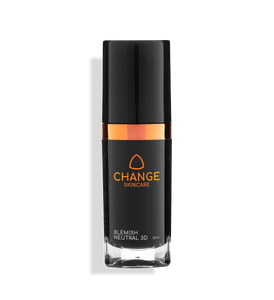 Blemish Neutral 3D removes blemishes and helps reduce redness, inflammation, and issues of congested skin. Gently exfoliates, normalises oil, and helps with pore size.
Individuals with,
Blemishes.

Acne.

Rosacea.

Oily skin.
Apply to clean skin using two pumps or as a spot treatment.
Avoid delicate eye area.
Use at night
Octadecenedioic Acid: Derived from sunflower seeds for skin clarity

Salicylic Acid: BHA: Provides exfoliation for preventing pore-clogging

Fruit Acid combination: Designed for exfoliation

Olea Europaea Fruit oil: Rich in Vitamin E, helps replace skin moisture and elasticity

Chlorophyllin: Helps purify & soothe

Aloe Vera: Potent anti-Inflammatory properties
PLEASE NOTE THIS PRODUCT IS NOT RECOMMENDED FOR THOSE WITH NUT ALLERGIES. TRACES OF NUTS ARE FOUND IN A KEY INGREDIENT USED IN THE PRODUCTION OF THIS PRODUCT.