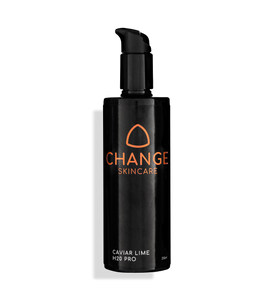 Caviar Lime H2o Pro Micellar water can be used as a cleanser for face. With a collective of high end active ingredients, Caviar Lime H20 Pro will leave the skin super clean without stripping or compromising the natural barrier function. Ideal for travelling.
Apply the product as required to clean facial makeup pad; wipe over the face until clean. DO NOT SCRUB. Be gentle around the eye area.
Use Anytime.
Australian lime Caviar: Helps remove dirt and dead skin.

Resveratrol: Potent Anti-oxidants.

CoQ10: Helps prevent premature ageing.

Aloe Vera: Anti-Inflammatory.

Jasmine Absolute – Aids dry, dehydrated skins useful in treating eczema & psoriasis. The antiseptic benefits of benzaldehyde, benzoic acid and benzyl benzoate are conducive with antiviral and germicidal properties.

Seabuckthorn CO2 Oil – Potent anti-inflammatory containing omegas 3+6 & vitamins E + A. Used to treat radiation burns.
PLEASE NOTE THIS PRODUCT IS NOT RECOMMENDED FOR THOSE WITH NUT ALLERGIES. TRACES OF NUTS ARE FOUND IN A KEY INGREDIENT USED IN THE PRODUCTION OF THIS PRODUCT.