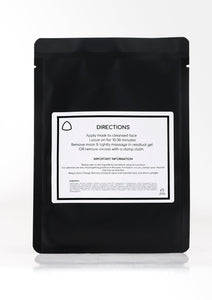 A unique formulation of eleven cutting edge peptides, hyaluronic acid, marine collagen and anti-ageing ingredients aiding skin rejuvenation and hydration.
The Platinum Peptide Sheet Mask is a cooling mask that leaves the skin smooth, calm and comforted with immediate radiance restored.
• All skin types
• Dry, dehydrated skin
• Dull, lacklustre skin
• Post-treatment
Apply to clean skin, leave for 10 - 30 mins, remove the mask and lightly massage the residual product, and remove excess with a soft cloth.
• Hyaluronic acid - Inhibits dehydration and improves barrier function.
• Eleven cutting edge Peptides - Helps reduce fine lines and improve elasticity.
• Marine Collagen - Interacts in skin support.
• Magnesium aspartate, zinc, and copper gluconate - Enhances and brightens, restoring skin vitality.
• Vitamin B5 - Adds moisture, which is calming and soothing.